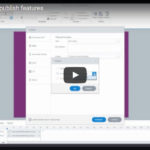 When you publish an e-learning project, you want it to be absolutely fit for purpose. Access to options for publishing, deploying and viewing your content is vital. Storyline 360 delivers a host of new publishing features that make it easier to get exactly what you want.
As part of the beta-test team, Veronica B had the opportunity to check out Storyline 360 before it even launched. Here, she shares her 3 favourite new publishing features. She reckons they'll be making developers lives easier in a flash. See what you think.
1. Output can be HTML5, Flash, or a combo
Storyline 2 published course files that deployed to Flash by default and also to HTML5 if that option was ticked. At first it seemed like a neat solution, but pockets of discontent soon emerged.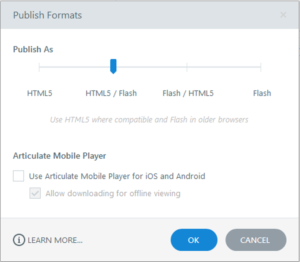 Many professionals have been vocal in their call for HTML5-only output. On the flip-side, some folks exclusively need a Flash version due to infrastructure constraints. Storyline 360 has the solution for both camps, and more.
Storyline 360 lets you select from four settings in the Publish Formats options dialogue. Take your pick from:
HTML5 only
HTML5/Flash
Flash/HTML5—the reverse of the previous option: Flash if available and HTML5 when Flash is not
Flash only
Where both versions are bundled together, the one listed first will play unless it's not supported by the user's browser. If it's not supported, the other version will play instead.
Verdict
A snappy and simple solution. Everyone's happy.
2. Publish single scene/slide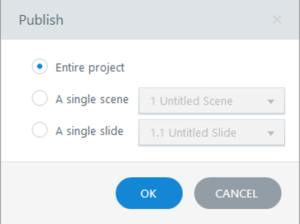 Sometimes you need to test a single slide or scene in your project. Often, the Preview function does the job fine. Sometimes, however, you need to make sure everything works in a live environment. For this, you need to publish it and load it to the web or your LMS.
Storyline 360 introduces new Publish options. No longer do you have to publish your entire project to test a single scene. Now, you can choose to publish just a single scene or even a single slide.
Verdict
The ability to publish small samples will make things faster and easier. It will be most appreciated when preparing excerpts for testing and previews for stakeholders.
3. Responsive Player
Storyline 360's best new feature is definitely its fully responsive player.
We're not talking about the Articulate Mobile Player app for mobile devices. We are talking about the functional framework that contains all browser-based Storyline courses. It's how users access basic navigation, tabs and things like volume controls. It's important.
With Storyline 360, Articulate promises that you need only publish your course to a single file and the player will adapt to look and work perfectly across all devices. From high-powered desktop computers through to 5-inch smart phones, all are well-served.
With minimal need for developer tweaking, each e-learner gets an experience that's customised for their hardware.
For touchscreens, common gestures work effortlessly, right out of the box. Standards like swipe and pinch zoom are automatically in effect.
How to use it
The new player is supported by a range of settings and properties that give developers control without becoming onerous.
We've already started writing-up a more detailed article on Storyline 360's player responsiveness. There are a few new options and settings that will refine development processes and—when used well—enhance user experiences, so it deserves a closer look.
Verdict
Responsiveness can be hard. Laypeople often underestimate its importance and complexity. The Articulate team have worked hard to make it easy for designers and developers.
A fully responsive player is a godsend to Storyline developers everywhere. If, that is, it works as promised.
The good news: Storyline 360's responsive player has stood up to all our early testing. So far, it looks like a real solution to a big problem.
Video Recap
A birdie told me you like videos, so I've also made a quick explainer to guide you through a few of the new features.
That's Veronica B's run-down on Storyline 360's new publishing features
Storyline 360 delivers on its much anticipated promise of a responsive player. There's also broad flexibility for publishing projects that suit your needs.
Do you like the new publishing features? Let us know in the comments below!
For Storyline Training at your organisation, get in touch. Our experts have training solutions for both Storyline 2 and Storyline 360. Our tips and tricks engage everyone, from novices through to know-it-alls.